Storyteller's demo exceeded my literary-loving expectations – Destructoid
Putting a new spin on classic tales
Ever since it was announced at the Annapurna Interactive Showcase last year, Storyteller has been pretty high on my list of most anticipated games. The trailer also let us know that there was a playable demo up on Steam, and for reasons that would take far too long to explain, I didn't get around to playing it until this week. I may be late to the party when it comes to the demo, but the game still doesn't have a release date yet, so at least I didn't miss out there.
Let me tell you, as someone who loves both narrative design and puzzle games, Storyteller is an absolute delight. I only got about half an hour with it before I exhausted the demo content, but I can already tell you that this is one of my favorite indie games ever. When I first heard that Annapurna was publishing Storyteller, I knew it was going to be great because they never seem to miss, but I was still pleasantly surprised when I sat down to play.
Gameplay-wise, it's simple, but so addictingly fun to figure out. You're presented with a prompt you have to complete, a series of empty panels to create your stories in, as well as settings, characters, and plot devices to choose from. From there, you just drag and drop different elements to create a story that fits the prompt that the game gives you. Like I said, simple, but it's a puzzle game format that feels really unique and refreshing. It's a story game, sure, but the stories are so beautifully married with the gameplay and emerge so naturally from how the player chooses to interact, that this is one of the more creative examples of narrative design I've ever seen.
What really puts Storyteller over the top for me, though, is how polished and well-themed it is. The whole game takes place in one giant storybook, with the title page serving as, well, a title page, as well as the credits. The level select pages look like a table of contents, and when you select your level, it flips through a bunch of pages to land on the one that you need. The animations are really smooth and responsive, and although it's a little thing, a menu that feels good to navigate can really add a lot to a game.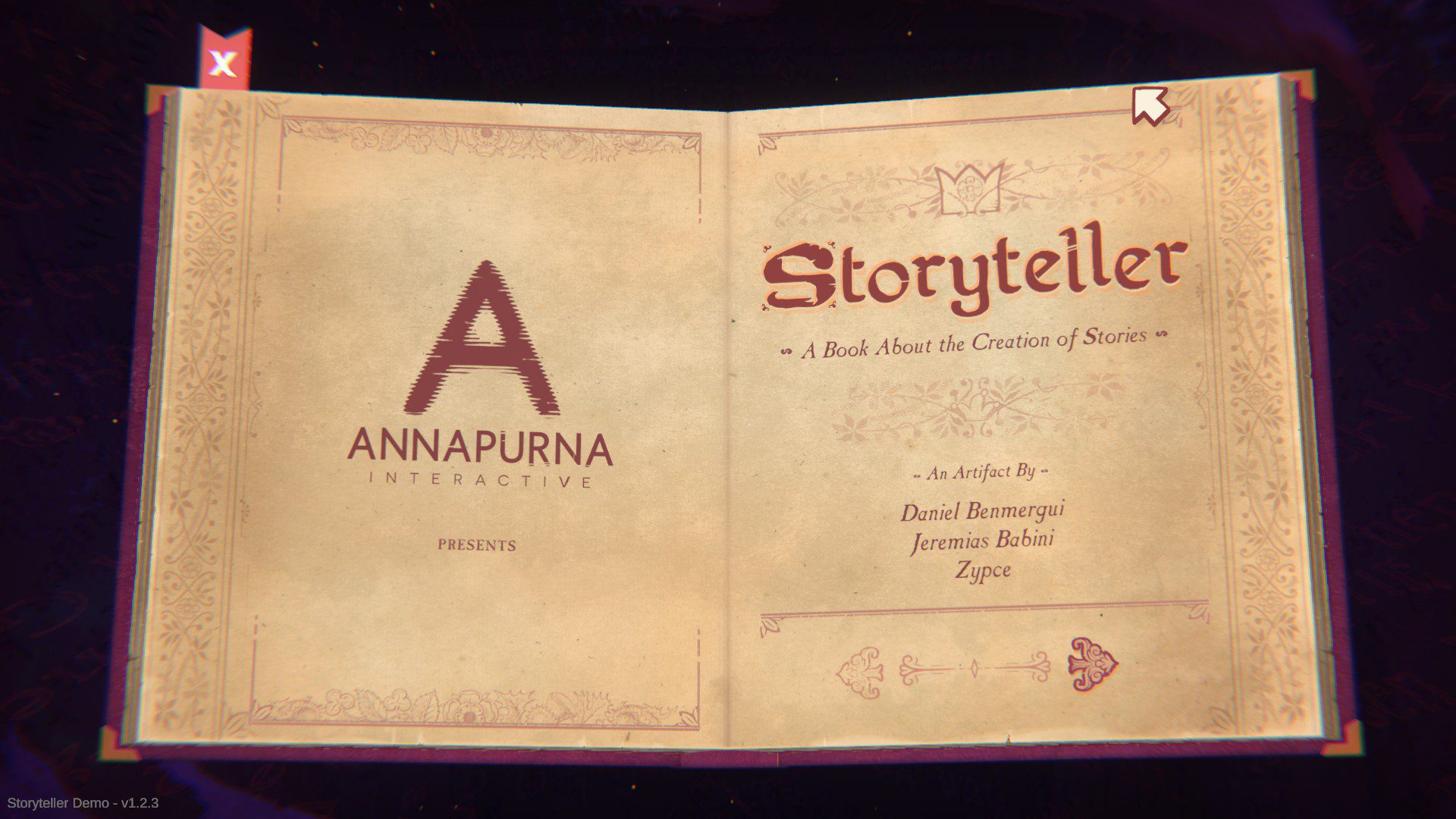 Sticking with the theming, the art style is also a lot of fun. It maintains a restraint that makes it feel minimalist, but not overly so. Everything that's on-screen is only what needs to be there, and no more. The characters are drawn so adorable, and each set of levels is themed to a different era of literature, and pays homage to their respective inspiration in really cute ways. Not to spoil anything, but I did get an achievement for recreating the plot of a very famous work of literature, and that made my heart really happy.
I obviously love games, but I often tell people that literature was my first love, so much so that it's actually what my degree is in. Classic lit and games don't often overlap, so when they do it's a magical thing for me. I also think Storyteller is exceptional because my writer friends and I often discuss how trying to make a story work in real life feels like a puzzle, so seeing that recreated so elegantly in game form is pretty amazing to me.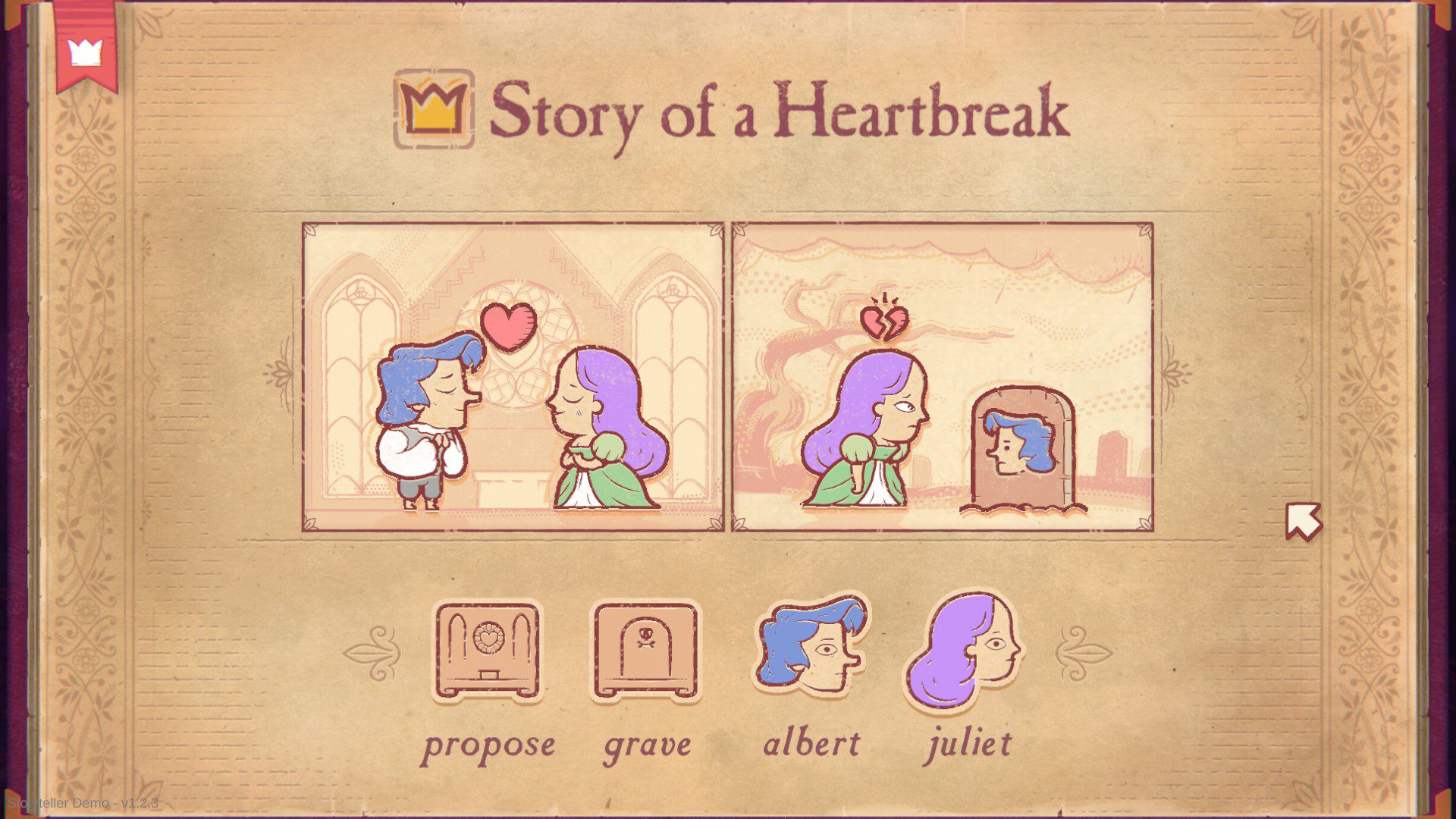 One of the things good art can do is communicate complicated real-world ideas in ways that make sense to someone who hasn't experienced that before, and I think Storyteller does this quite well. I imagine that someone who is unfamiliar with writing stories could play this game and get a sense of what it's like, albeit in a much simpler, cuter, and more entertaining way.
Even so, I am so excited to see a game out there that's showing gamers how much fun literature can be. Storyteller falls under the umbrella of games that were made pretty much entirely by one person, so we might be waiting a bit for its official release, but I'm perfectly fine with that. The developer, Daniel Benmergui, can take as much time as he needs, and until he's ready to put it out, I'll be doing my part to spread the word about how charming this game is.
---
Story Beat is a weekly column discussing anything and everything to do with storytelling in video games.